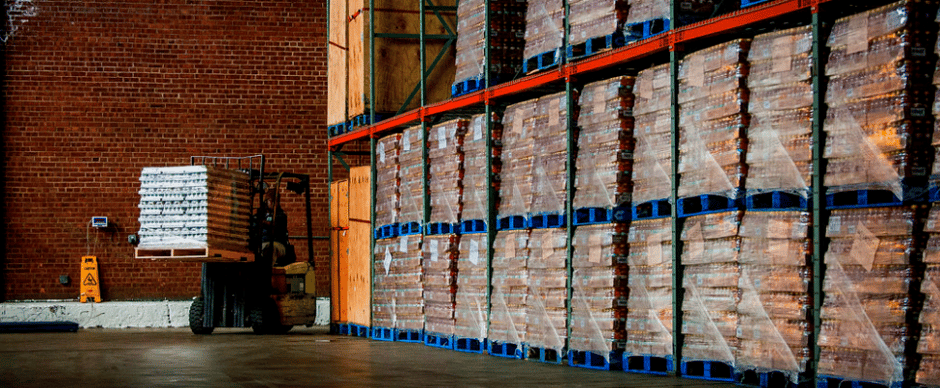 In this blog, we continue our dive into warehousing in the GCC economy to help you identify hotspots and solutions to keep your warehouse on track with best practices and successful fulfillment.
Warehousing in Saudi Arabia is embracing structural revisions as a response to rapidly changing demand drivers and technological advances, so warehouses must ensure they support supply chains to fulfill the growing demand of ecommerce and retail in the next decade both effectively and efficiently.
Growth in the ecommerce sector and increasing demand for industrial and retail warehousing has driven the warehousing market in Saudi Arabia, according to a recent study by Ken Research.
The report titled"Saudi Arabia Warehousing Market Outlook to 2023 – By Business Model (Industrial/Retail, Container Freight/Inland Container Depot and Cold Storage), By End Users (Consumer Retail, Food and Beverages, Healthcare, Automotive and Others) and E-Commerce Warehouses"believe that the warehousing market in Saudi Arabia has been increasing largely due to growth in the retail sector, an increase in manufacturing activity in the country and expansion in international trade. The market is expected to register a positive CAGR of 4.1% in terms of revenue during the forecasted period 2018-2023, with the following factors contributing to this:

1. Emergence as a Transhipment Hub:
Saudi Ports Authority signed a long-term memorandum-of-understanding with Saudi Industrial Services Co (SISCO) to expand Red Sea Gateway Terminal (RSGT) at Jeddah Islamic Port, which will bolster the aim of turning Jeddah into a transhipment hub for the Middle East. Saudi Arabia has emerged as a transhipment hub for goods which will increase customer's demand for modern warehouse solutions at cheaper costs in the country.
2. Rising Foreign Direct Investment:
The country undertook economic diversification and opened doors to industrial, retail and logistics players by allowing 100.0% FDI ownership in the year 2018. Majority of the international players who are seeking industrial premises in the kingdom requires large warehousing space however, owing to a limited supply of state-of-the-art warehousing facilities; they prefer leasing land and constructing facilities in accordance with their needs and preferences. In addition, the increasing digitization is paving way for automated warehousing technologies, ASRS and several other advanced techniques of warehousing in the country.
3. Rising Number of Logistics Players:
The growing logistics market of Saudi Arabia is simultaneously witnessing an increasing number of new players and existing players expanding their current level of operations. For instance, Wared Logistics has started the first of a series of temperature controlled warehouses mid-2012. Also, the logistics chain of UAE, Al Futtaim began with the operations of its second warehousing facility in Riyadh in July 2018, by scaling up the local distribution centre with the total warehousing space of 15,000 Sqm.
IDENTIFYING SAUDI ARABIAN WAREHOUSING CHALLENGES, AND CREATING SOLUTIONS
Some of these are current challenges brought on by the behavioural and economic changes and limitations brought by 2020, and some deal with the day-to-day challenges that are ever-present in your warehouse
The Saudi-specific challenges to resolve:
1. Labour availability
With more eCommerce and general warehouse labour required and the newly-restricted movement of blue collar labourers, Saudi Arabia does not currently have enough blue collar labour available. This means that warehouses have a greatly reduced hiring ability, and this requires a viable replacement of labour in the warehouse.
Solution: Warehouse automation can help you to make up the shortfall and keep your operations running smoothly. A best-in-class system can integrate with all your MHE and processes to reduce the demand on your current workers and reduce the workforce complement to a manageable number.
2. eCommerce challenges
Saudi Arabia has one of the fastest-growing eCommerce markets, and the change in customer expectation puts new demands and limitations on supply chains.
With scattered urban centers, long-distances between distribution centers, and challenging transport routes between warehouses and residential areas, the challenge here is how to efficiently plan distribution to ensure consistent customer satisfaction.
Solution: The improvement of warehouse and supply chain processes is critical to efficiency improvements, ensuring a speedier turnaround from receiving to outbound. In addition, a transport management process to reduce miles traveled for deliveries and inbound orders will aid in on-time deliveries and shorter wait-times for customers.
3. Labour communication, onboarding, and training
With a globally diverse workforce who is fluent in English, it's simpler to get all the warehouse labour on the same page. With new local and resident labour, it's much harder to ensure that language barriers and training are efficiently managed while maintaining the warehouse operations.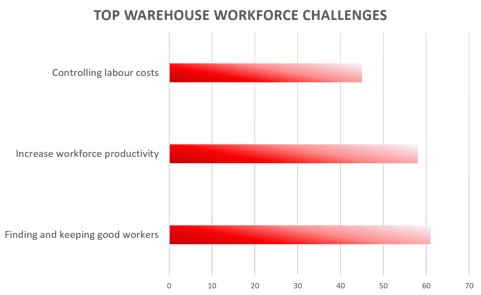 Solution: There are many WMS tools you can use to help you to communicate with your warehouse staff, and adjustable methods so that language-specific material can be shared easily for simpler communication. A user-friendly interface also helps with learning the software and new processes. In addition to this, a "train the trainer" approach is critical: A management representative can be trained up to effectively translate the knowledge of the system to the non-English workers.
Global warehouse challenges which affect the full GCC region
The challenges listed below are the challenges felt worldwide, especially in the wake of COVID-19 and the economic damper that's been put on global business. The list is longer than this summary, but the solutions to each challenge faced are available through effective and for-purpose warehouse design and WMS implementation
Inventory Inaccuracy
Redundant Processes
Picking Optimisation
Warehouse Layout
Erratic Seasonal Demands
Labour
Quality Control
Avoiding Product Damage
Handling Returns
Warehouse management is commonly associated withfour core elements. However, the underlying processes are complex and dynamic, not to mention the global politics at play. Combined, this unique environment has presented major problems for warehouse managers across industries and continents.
Get our warehouse optimisation checklist for a full view of the options you have when implementing a Warehouse Management System: