Warehousing in Saudi Arabia is embracing structural revisions as a response to rapidly changing demand drivers and technological advances. Buyers are buying, and sellers are selling, so how can warehouses and supply chains fulfill the growing gap effectively and efficiently?
We consider the latest studies and look towards the necessary change management.
In a detailed white paper on the warehousing sector in Saudi Arabia, published in August, realty company Colliers International featured the results of an industry-specific stakeholder survey, examining the key drivers influencing the evolution of Saudi Arabia's warehousing industry. The report combines real data with market sentiment to capture the current and future impact of the novel coronavirus, COVID-19.
Considering all statistics it is obvious that the warehousing industry is exhibiting healthy growth, and technological advances are a key driver.
Warehousing change management: Why?
The rise of automation and value-added services are helping businesses to attain competitive differentiation by changing the way their warehouses - and supply chains - operate, looking towards a dynamic future across the globe.
The report discusses the key drivers of change in the warehousing sector (below) which have a potential impact on all other sectors of the economy. In addition to highlighting the impact of COVID-19, we also need to consider the market landscape, demand-supply dynamics and key challenges for leading players across the major cities in Saudi Arabia including Madinah, Riyadh, Jeddah, King Abdullah Economic City, and Mecca.
The four key drivers for change management with impact on the economy identified: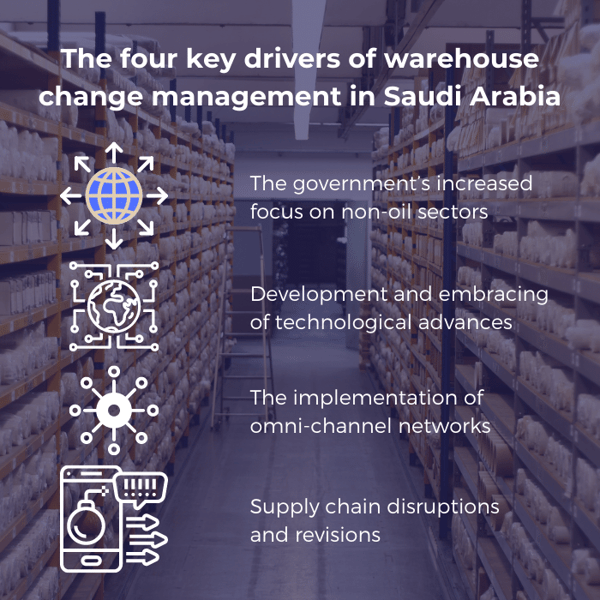 These will ultimately reflect structural changes in the storage solutions industry as the market continues to evolve.
The increasing adaptation of eCommerce as a result of restrictions posed by the coronavirus pandemic will potentially shape buyer behaviour in the mid to long term. Big retailers such as Carrefour and Abu Dawood are reporting an increase in online sales of up to 200%-300%, and expect an escalating growth trajectory in the mid-term.
The demographic data supporting change management
According to the General Authority for Statistics, mobile phone usage in Saudi Arabia reached 99.61% in 2018, and the average time spent online per day by the country's consumers was reportedly 6 hours and 45 minutes, or 15 minutes more than the average US consumer.
The report mentioned that Saudi Arabia's eCommerce sector has shown positive growth trajectory since 2014, with the trend expected to continue. The pandemic has led to major supply demand discrepancies, supply chain interruptions and order fulfilment issues.
The majority of the survey participants indicated that COVID-19 had a significant impact on business over the short term. Short term revenue impact has been recorded at a decrease of about 20% to 60%, however, a small percentage of respondents noted an increase in performance, which may indicate superior operational efficiency and/or increase in demand.
Colliers noted that it sees businesses highlighting the importance of online solutions as part of the overall strategy moving forward. Warehousing companies in Saudi Arabia are seeking business support, including IT solutions such as warehouse management systems, and financing from both government & non-government sources.
This leans to an industry shift towards leveraging technology to increase efficiency within the warehousing sector, engaging with suppliers, managing inventory, and assessing the impact to production.
"We see organisations leveraging technology to increase productivity and space utilisation. Preeminent amongst these are automation by leveraging on technology in data-driven capacities, infrastructure and big data. Significant financial impact, both positive and negative, is expected while business operators continue to evaluate different strategies to cope with the current realities of the pandemic impact and identifying potential within the new trends."

- Imad Damrah, Managing Director at Colliers International KSA
According to a survey on the evolution of the warehousing sector in Saudi Arabia in 2020 during the COVID-19 pandemic, 25 percent of respondents identified suitable accessibility as a factor that will increase the attractiveness of warehousing facilities. (SOURCE: Statista.com)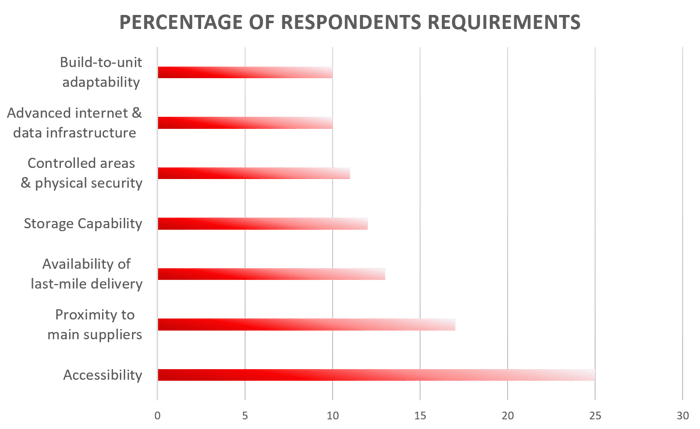 The Summary Case for Change Management in Saudi Arabia:
Supply chains in Saudi Arabia are booming, and customers are demanding service
Embracing technology is the next step to supply chain efficiency, flexibility, and success.
Changing the approach to warehouse change management: 3 steps for success
New technologies can completely alter a worker's daily job, requiring operations executives to take a strategic approach to managing labour through the change. This poses some unique challenges with change management, with warehouse automation technology advancing far beyond conveyor belts.
New technologies and job functions can result in different KPIs, too, meaning that change management beyond 2020 requires a strategic, individualised approach to training and retention.
Robotics automate functions while improving the work environment

Regardless of the automation's function or how much it improves workers' environment, warehouses still require a top-down leadership approach to guide workers through the changing nature of their job functions.
Step 1: Communicating Change in the Workplace
By the time you have selected the right warehouse softwares and technologies, you already understand the objectives and benefits inside out... But, this doesn't mean that everyone else does. The biggest mistake in communication is the assumption that it has taken place!
SCJ Top Tip: Decide on how and when to communicate to the whole company. Here are some key points that you should include in company-wide communications.
Explain the primary objectives of the warehouse inventory software implementation.
Communicate the benefits to the business and staff.
Reassure staff that they will be adequately supported and trained.
Make sure everyone understands the importance of successful change.
Set out timelines for implementation and training.
Communicating change shouldn't be a one-way street but an 'all-hands' meeting lead from the top is a good start. Having the gravitas of a CEO or CTO deliver the first message will add weight to the importance.
If you have an intranet, use it to keep all employees up to date. It can also be a good place to post FAQs and other key project resources, like implementation timelines, go-live dates, and training schedules.
Give employees a chance to raise questions. A short Q&A at the end of the first meeting is a good start, but don't forget:
Make sure you also give people the chance to speak in smaller groups where senior management won't be attending. Some of the most change-resistant might be afraid to speak out in large groups or in front of anyone that senior - and you can't address problems if you don't hear them.
Step 2: Identify Influencers and Integrators
You cannot handle all the work involved in the change management process alone, nor should you. It must be a team effort, with the right people supporting both the change and the staff implementing it. The more employees are affected by the new systems, the more support they need.
SCJ Top Tip: Identify individuals that can perform key communication and training functions on an ongoing basis. The list below is a good place to start.
1. Leadership – This could include senior management, a consultant from the warehouse inventory software vendor and perhaps an external change management consultant.
2. Key Users – Identify department managers or experienced members of each department. These key users will help digest and communicate what the changes mean for their teams and can also manage the training specific to that user group. Key user groups for warehousing technologies or WMS include:
Warehouse team
Supply chain workers (e.g. delivery drivers)
IT department
Senior management
Sales team (they must know if items are in stock)
Super Users – these will typically be the most tech savvy users in the organisation. Identify and train them early so that they can help with the day-to-day monitoring of WMS usage and low-level user issues. Whilst you could just use your existing IT helpdesk here, consider including members from other teams if your structure permits it.
3. End Users – This is everyone else that will use the warehouse inventory software.
Step 3: Ongoing Training & Support
Automation isn't THAT good yet - you still need people to run it! As such, training users is instrumental in change management success.
SCJ Top Tip: Train each user according to their function in the stakeholder category and their individual needs. Set tasks, tests, and achievable milestones, and be sure to offer plenty of support to make their training relevant and rewarding.
Pickers need distinct training from your inventory managers, team leaders and other users – create job-specific training scenarios for each job function.
Set timely and achievable milestones to help set the pace and keep trainees motivated.
Keep an up-to-date and searchable knowledge management system.
Find the right type of training for your user groups: consider e-learning to provide flexible training modules where needed, or if you have a shift-based workforce with limited access to desktop computers, face-to-face seminars might be a better option.
Make use of all vendor resources on offer.
Have your super users give face-to-face training to their departments.
Your business, people, processes and technology will continue to shift and so must the support they receive. Training and support must be ongoing in order to succeed in the face of change.
As with any change management, robust planning, clear objectives and buy-in are essential to the adoption and success of any new integrations.
A WMS system might appear to be a technology-focused project, but by putting the people in your organisation first, not only will you will see a quicker ROI and more sustainable long-term gains, but they will too.
Download the Change Management Checklist for a fuller picture of the requirements and processes: