With the advent of always-on e-commerce, the demand for faster responses, and the need to manage a larger number of SKUs with fewer errors, warehouses need to scale up and meet the standards of an intelligent, efficient, and automated warehouse.
Looking ahead 2 to 10 years, a predicted surge in the preference for digital transformation will bring fundamental changes to the way warehouses operate. Accordingly, the adoption of disruptive warehouse digitalisation will reach its apex. Here is how promising the future of warehousing may be.
Six years from now, this is what the adoption rates of the 7 aspects of warehouse technology will look like: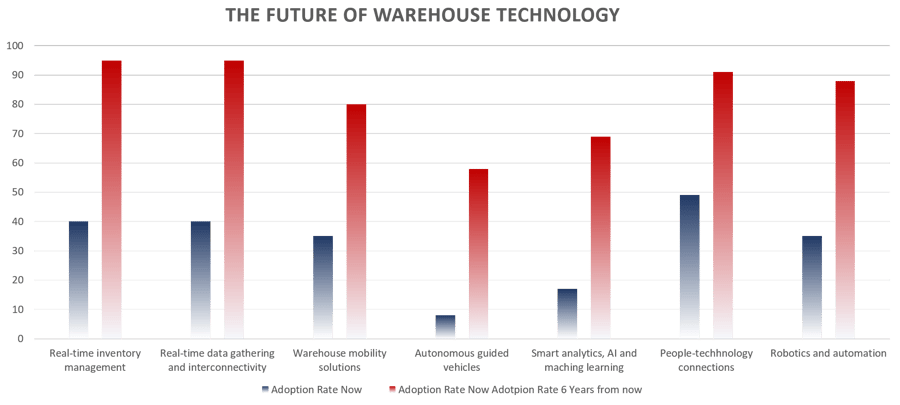 This graphic references McKinsey's 2020 report on the Future of Warehouse Technology
1. Real-Time Inventory Management
The highly successful state of commerce is exerting heavy pressure on warehouse managers for more efficient inventory management. They need more visibility and control over inventory. Automatic identification systems such as smart sensors, RFID (Radio Frequency Identification), GPS, etc., not only provide end-to-end visibility of inventory but also operational intelligence through the data that these sensors collect in the process.
This helps in optimising inventory management as well as in making the warehouse safer while increasing visibility. With the increasing number of smaller orders and the omnichannel trade, real-time inventory management systems will become a staple of the future warehouse.
2. Real-Time Data and Interconnectivity
The cornerstones of warehouses and supply chain systems must be transparency and accessibility. Technological advances offer the power to distribute information fast and securely, thus making real-time data exchange for warehouses efficient and transparent.
Key technology includes the Internet of Things (IoT). IoT is an ecosystem of sensory devices (e.g. for location, humidity, temperature) that are interconnected across digital networks. These can collect and transmit data in real time without human intervention.
These technologies are bringing real-time visibility and seamless collaboration among processes and chain partners, resulting in highly evolved, efficient, and effective operating and distribution models.
3. Warehouse Mobility Solutions
The transition from fixed desktop workstations to smartphones and other mobile devices is a major step forward in gaining efficiency in all businesses, and warehouses are an excellent example. Today, devices and apps substantially reduce walking time and allow warehouse employees to work and access data on the go, both inside and outside of the warehouse.
Smartphones are not only liberating warehouse administrators from deskbound activities but also scaling up capabilities to standard workstations. Today's warehouse mobile solutions can deliver excellent operational efficiency and computational power that warehouse operators need.
The advantages of functions such as imaging, tracking, cloud integration, video-conferencing, voice and face recognition, and even personal assistants, open new frontiers for transformation.
The more we look towards the future of distribution, the more obvious it is that mobility is essential. Warehouse mobility is one of the most secure areas for businesses to invest in, so long as it is well planned and strategically aligned with operational needs.
4. Autonomous Guided Vehicles
Although not yet widely adopted, AGVs (Autonomous Guided Vehicles) as potential substitutes for the forklift, promise to revolutionise the transportation of stock throughout warehouse operations and distribution. Consider giants such as Amazon, who are maximising this technology and substantially reducing costs, time, and labour by adding 15000 Kiva robots every year.
There's no arguing the spike in drone industry growth that has occurred in the last few years – the drone services market size is expected to grow from $4.4 billion in 2018 to $63.6 billion by 2025, and Business Insider Intelligence predicts consumer drone shipments will hit 29 million by 2021.

Business Insider, March 2020
Drones are set to disrupt the warehousing and logistics industries, as they are safe and economical when it comes down to locating cargo, conducting inventory, cycle counting, and performing stock-taking operations. A drone equipped with sensors, cameras, barcode scanners, or RFID technology can reach even the innermost spaces within a warehouse. These can complete checks and manage inventory in less than one third of the time needed to do it manually. The opportunities for last-mile delivery are obvious!

The good news is that if you are looking for warehouse management for small businesses, AGVs can be as handy for those as they can be for large enterprises. This is one reason why AGVs are certainly a part of the future.
5. Smart Analytics, AI and Machine Learning
Warehouses will be expected to play a key role in increasing customer satisfaction, effectively predicting product demand, and making better use of the resources at hand. As a result, the demand for forecasting and accurate decision making is on the rise. An increasing number of warehouse managers are now keen to interpret data trends to not only anticipate stocks, but also to optimise asset utilisation, warehouse layout and capacity.
This is where predictive analytics come in: predictive analytics make use of statistical techniques such as predictive modeling, big data, and data mining to analyse historical trends and make predictions about the future. Together with artificial intelligence (AI), this is highly effective for recommending optimised inventory levels, replenishing inventory, and increasing operational efficiency as well as warehouse optimisation as a whole.
The global market for predictive analytics is set to grow from USD7.2 billion in 2020 to USD21.5 billion by 2025.
This is proof enough that not only warehousing, but also all sorts of industries, find smart analytics and machine learning a worthy investment.
6. People-Technology Connections
One of the most futuristic features of a modern digitised warehouse and distribution-optimised supply chain is the interconnection between people and technology. Wearable technology provides warehouse clerks and managers access to a wide spectrum of information in real time, irrespective of their location, environment, and physical constraints - particularly valuable through pandemic times of enforced isolation and social distancing.
Wearables are small computers that can be strapped to the wrist, head, or any part of the body. Devices such as smart glasses, augmented reality, and voice-enabled devices are becoming more popular by the day as means of achieving effective interaction with systems. The result will be better flow of information, greater visibility, decrease in error rates, superior safety, and increased service levels at lower operating costs.
Wearables can help optimise efficiency in processes such as order picking, receiving, handling, high-value asset handling, cycle counting, safety, and workforce training, to name only a few.
7. Robotics and Automation
Automation is one indispensable aspect without which warehouses are unlikely to survive in the future. Warehouse automation is a present reality and one that is certainly a part of the future digital transformation. Automation and robotics can simplify performance of manual tasks, with much less time and cost (cumulative) and increased efficiency.
Robotics are expected to become more human-like in the aspects of memory, sensing, skill, and affinity for learning without being programmed for particular skills by employing AI and machine learning.
A survey conducted in 2015 by Zebra to study advancement in warehousing in the next 5 years concluded that as many as 70% of respondents were looking to automate their warehouses/warehouse processes.
8. Our own item: eCommerce Influences
E-commerce is the future, and it's not going away anytime soon. Thankfully, warehouses will not be obsolete in this future, as they will always be needed to store and ship physical products. As technology and consumer expectations advance, warehouses will need to innovate and adapt with the changing landscape. However, judging by how warehouses have reacted in the last decade, they are more than capable when they focus on training their employees, employing solid WMS technology, and utilising equipment at their disposal.
In short: smart warehouses are becoming the required norm, no longer the nice-to-have.
Warehouse digitalisation is a reality that the warehousing industry must come to terms with in order to sustain and thrive amongst increasing competition and market pressures.
The smart warehouse, which appears only as a disruptive force as of now, is likely to become the norm within the next ten years and the strategic hub of e-commerce within an ever-extending supply chain. Exciting as it is to be entering a new decade, the business landscape has been transformed, with the arrival of many different challenges, some of which depend on where in the world your warehouse operations are located.
One key trend that every region shares is the arrival of social commerce and digital transformation, with business transactions at all levels continuing to migrate online, albeit at very different rates.
Six key global trends to be watching out for beyond 2020:

Drop-shipping will increase substantially
Time to delivery becomes a key competitive differentiator
Social media commerce returns will make reverse logistics even more important
Flexible pick methods for multiple order profiles
New workarounds to overcome labour shortages
Investing in a WMS is increasingly common
Find out more about how you can kickstart the warehouse optimisation process and get ready for the new warehouse technologies and processes that are heading your way: