The Middle Eastern consumer today:
Shifts in consumer expectations and behaviour, which were evident in the results of McKinsey's latest Middle East Consumer Sentiment Survey, are among several challenges that retailers and consumer-packaged-goods (CPG) manufacturers in the region have been facing.
"Consumer behaviour has changed radically in recent years, leading to the transformation of the retail landscape and the growth of online shopping. As urbanisation continues and societies age, new shopping patterns will become more firmly established with online retailing playing an increasingly important role. In addition, the pressure will mount on market players to improve the quality and speed of deliveries. Online retailers are already trying to outdo one another in this respect as reliable and quick deliveries help them to stand out against the competition, impacting directly on customer opinions and numbers of returning customers. Appropriate warehouse infrastructure will be required to meet rising customers' expectations.

The upcoming years will see an increase in both large distribution centres for e-commerce and urban logistics schemes tailored to e-commerce tenants, as well as cross-dock and post-sale service facilities."

Joanna Sinkiewicz - Head of the Industrial Agency
Cushman & Wakefield
Another challenge is the influx of competitors: retailers are competing with fast-growing online players, while large CPG manufacturers are losing share to smaller brands. Furthermore, structural changes, such as volatility in oil prices and geopolitical developments, are subjecting companies to higher costs and bigger risks.
Your GCC consumers are showing several traits:
Price sensitivity is growing steadily, with consumers in the Middle East spending more cautiously
Brand loyalty is eroding
E-commerce is catching on
Health and wellness are becoming more important
Demand for local goods is growing
Yet this tough business environment hasn't discouraged new entrants; assertive start-ups have entered the fray and are growing fast:
Online players - including Souq by Amazon, Awok, Jollychic, Noon, and Rocket Internet spin-offs Namshi and Wadi - are luring Middle Eastern consumers away from physical stores.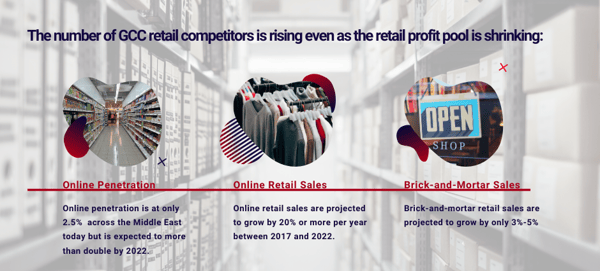 Today, we're going to look at six trends that have had the biggest impact on retail logistics and will continue to transform the industry in the coming years.
The last decade has changed retail - online was the trend and fulfilment centres dominating the world of distribution. The downside was that traditional retail supply chain relying on offline networks (physical stores) struggled and several went bankrupt.
Are the current eCommerce business models still valid?
Six trends which indicate that there are changes upcoming which will redefine the current landscape and will have an impact on current retail supply chains.
1. Successful retailers must effectively integrate offline and online options
While the eCommerce industry is booming and growing at a fast pace, there are a few companies who are taking up the major market share. As the consumer dollar can only be spent once, the loser in this game seems to be the offline retail shops. But luckily for them, that seems to change. Omnichannel Warehouse Management Solutions will be your saving grace.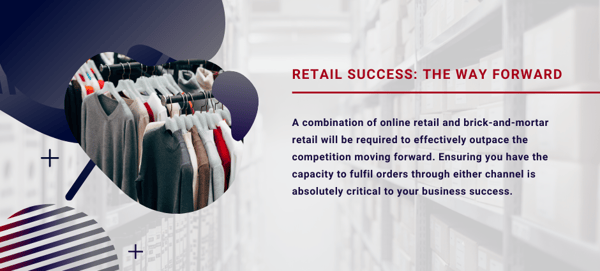 2. Bounce borders - do not rely on one market
Although – in theory – an online store does not face any borders and can be active in every country, we see – in practice – that most of the shops operate on local markets only. In offline you will be able to survive using a local strategy only, but in online the omnichannel cross border strategy is the only way to not be beaten or eaten by the big online companies.
Key success factors are:
Being present in more countries
Able to ship and overcome all customs-related issues
Having have an online and offline representation and presence
Take Apple as one of the good examples who have explored a successful omnichannel cross border strategy: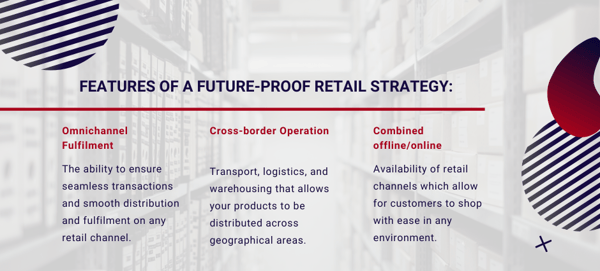 3. The high cost of returns should be considered
For many eCommerce retailers, one of the unique selling points was the possibility to freely return goods if they are not as you expected.
On one hand, driven by customer rights legislation, on the other hand, to equalise a big advantage of the offline store - the "feel and touch" element, particularly for clothing retail. But the cost became outrageous, with return percentages of over 40% and the associated costs which shrank the margins, namely:
The lost sale and an unhappy customer.
The investment in free transportation cost and the free return cost. This investment is lost when a product is sent back to the retailer. A big challenge for the retail supply chain
The labour costs of receiving, inspection and re-storage
The cost of downgrading or liquidation.
Currently, we see a change in the approach of customer returns. Zalando is using big labels to prevent that clothing is used one time and then returned. In the US there is a national database which flagged serial returners.
The IKEA return policy states "You will be required to present a valid photo ID for all returns and exchanges made in-store. Information from your ID will be retained in a company-wide database to be used only for authorising returns." - and due to the high rate of products which are being destroyed, high levels of returns aren't a sustainable solution regardless.
Solution 1: "Every item you order at Homespun is printed for you by hand - this is what distinguishes us from other e-commerce retailers. Returns aren't put back on our warehouse shelves, as we can't resell them, so we want to make sure you're 100% content with your order."
Solution 2: IKEA can offer their customers 365 days return policy. Why? Because they have loyal customers, but more likely: they offer click and collect. Returns should be brought back to the store.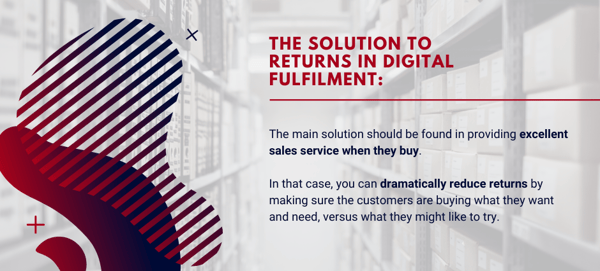 For sure, the return policies will change, as this part of the business model is no longer viable for a sustainable business.
4. Priority delivery - standard exercise or premium charge?
One of the major advantages of offline shopping is that you can "touch and feel" products and take it home immediately. In eCommerce we have to wait, but luckily not too long: the next day or even same-day delivery is offered for free, to win the battle with the offline store.
Amazon is often considered the driver of the rapid home delivery trend, thanks to its guaranteed two-day delivery through Amazon Prime. Given that 96% of Americans have shopped online, it's a trend that's not likely to fade into the background anytime soon.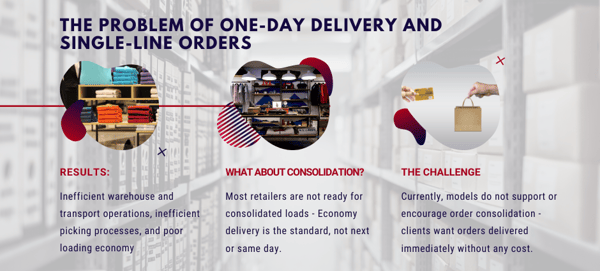 Find out how to make a successful omnichannel experience for your customers here.
Although brick-and-mortar stores are still prominent, there's no denying that retailers must be ready and able to meet the demand for rapid delivery.
To do so, many companies are turning to the technologies mentioned above, such as collaborative mobile robots to improve picking times and speed fulfilment, as well as embedded integration technology and big data to optimise delivery routes, all to deliver goods straight to consumers' doors faster than ever before.
5. Drop shipments for local products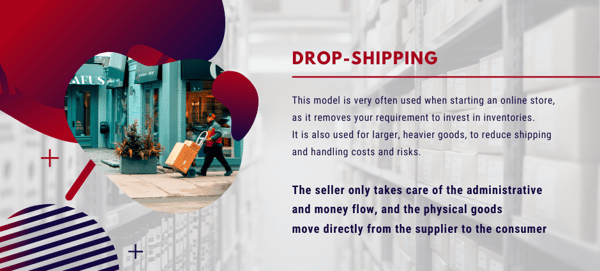 As we currently see, the online retail companies are shifting from retail supply chain operations (they own the inventory) to fulfilment operations (which deliver the service but do not own the products).
In analogy with 3PL service providers, they are moving towards a 4PL concept in which they do not necessarily own the asset for the fulfilment operation.
Take into account that most of the eCommerce orders are single line, there is not a direct need to first ship the goods to a distribution centre.
6. Consumer demand for omnichannel retail experiences
Savvy consumers are beginning to expect omnichannel retail experiences from their favourite brands, meaning a seamless and consistent experience across channels including online, mobile, and in-person. If a customer purchases an item online, for instance, the omnichannel model means the customer can return the item to any brick-and-mortar location, regardless of where it was purchased.
For retailers that keep online inventory separate from brick-and-mortar inventory, this can quickly complicate logistics — particularly if those distribution centres are located on opposite ends of the country.
7. Embedded integration technology
Embedded integration technology (big data) is another major trend impacting retail logistics, with logistics companies recognising the need to seamlessly and reliably share data continuously with customers.
Embedded data platforms make it possible to connect and integrate data leveraging capabilities that are already built-in to the solution.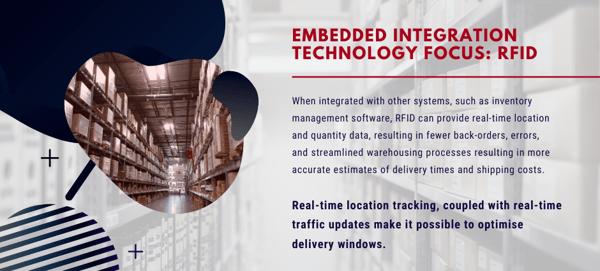 Embracing technological trends allows retailers to:
better share data throughout their supply chains
connect with customers in more meaningful ways
more effectively track inventory.
Using software like Manhattan's WMS, that aggregates the data on-demand, helps retailers and logistics companies to make big decisions in a flash and save time during audits, stocktaking, and reorganisation.
8. Increased adoption of collaborative robots
This goes for all warehouses, but particularly retail fulfilment and distribution centres that are always striving to improve picking times. Collaborative robots and AI technology help to improve productivity and efficiency by streamlining picking routes and improving pick rates.
Collaborative robots are particularly appealing to retail distribution and fulfilment as the retail industry experiences significant seasonal peak periods (e.g. the holiday shopping season). Because collaborative robots don't require new infrastructure, warehouse operators can rent additional robots to accommodate seasonal demands and return them after the peak period, making it a practical solution when requiring seasonal or temporary employees.
What's next for Middle-Eastern Retailers?
The future-proof retailer in the GCC will have a cross-border operation which streamlines offline into online shopping, using exceptional technologies to bridge the gap of excellence.
When the online model is dominating, the focus will be on convenience shopping as the main part of retail supply chain design, with broad assortments.
In the case of a dominating offline model, the focus will be on low cost/discount, or product/brand specialisation.
Start optimising your warehouse technology now, by seeing where you stand compared to your industry peers.
These and other trends are the driving forces of change in retail logistics. Ultimately, innovation arising from these trends will benefit not only the consumer, but also retailers and logistics companies by improving processes, boosting performances, cutting overheads, and giving businesses a competitive edge over the competition.
Efficiency and cost-saving will be achieved in the near future on the level of minimizing returns, offering premium transport services, and reduction of transport and storage cost by using drop shipments.
See how an omnichannel solution can benefit you by downloading the Foschini Case Study: