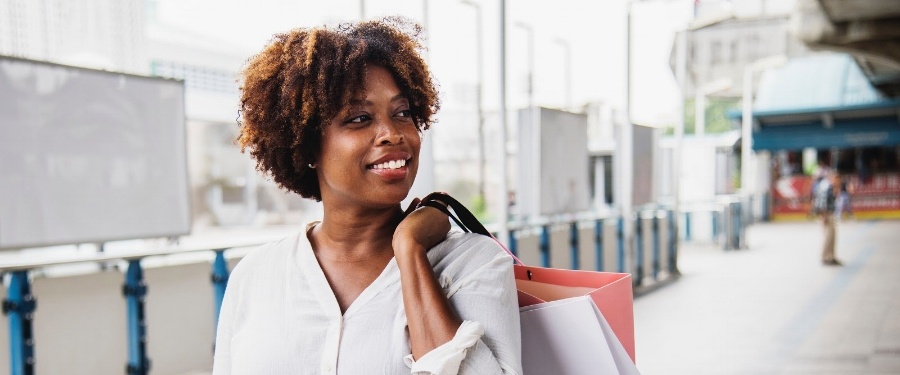 Customer service is the only thing differentiating you from your competitors. Find out how the right WMS can help give you the competitive edge you need to delight your customers and keep them coming back for more.
At the risk of holding an unpopular opinion, the chances of having a truly (100%) unique product in 2018 are pretty slim. So, what makes your brand stand out from the other 30 global suppliers selling similar products and services? It all boils down to customer service and the overall customer experience.
How is customer service related to logistics management?
It shouldn't come as a surprise that excellent customer service is intrinsically linked to effective logistics management. Why? Because the modern consumer is all about instant gratification: they want to be able to buy a product when and where they want it!
In today's fast paced society, there's one thing that stands out above all other deciding factors when buyers make their purchase decision: convenience. Yes, things like product price and quality play a role too - but most consumers are willing to compromise on these factors if it means making their purchase more convenient and hassle-free.
Optimising your supply chain to ensure that you can deliver on customer demands will place your business ahead of the competition, improving your customer service levels and helping you achieve your business goals.
Is your supply chain ready to meet customer demand?
The video below highlights some of the challenges modern businesses are faced with when it comes to omnichannel and meeting ever increasing customer demands.
How does your warehouse management system help you improve customer service?
Your warehouse management system (WMS) assists you in streamlining your strategy and processes, helping you improve the overall productivity and profitability in your warehouse. Being able to deliver on your customer demands timeously and accurately gives your customers the seamless, convenient and hassle-free experience they were looking for.
Your WMS is especially useful when it comes to optimising the following two key areas in your warehouse:
Warehouse layout and flow
Optimising your warehouse layout and flow will not only improve your usage of space, but also boost your warehouse productivity, reduce stock losses and save you money. This helps you achieve your business goals, and delight your customers with orders that arrive accurately, in good condition, and on time.
The key is to design the flow of inventory, material handling equipment and people to suit the products and volumes that you'll be moving through your warehouse. The more appropriate the warehouse layout is to cater for these, the smoother your process will be - turning your business into a well-oiled machine.
---
Read our full article, Why you should optimise your warehouse layout (and how to do this), for tips to help you streamline your operations for maximum efficiency.
---
Labour optimisation
Labour makes up between 50 to 75% of your total warehouse costs, making labour optimisation a crucial part of running a lean and efficient warehouse. Your WMS is able to provide accurate, real-time data - allowing you to track productivity in your warehouse on an ongoing basis. This allows you to identify any bleeding points or opportunities much faster than you would manually.
Learn how the Manhattan WMS helped Kolok improve customer service to gain a competitive edge
Kolok (IT Distributor and Bidvest Subsidiary), was the very first company to choose Manhattan's WMS in South Africa (in partnership with Supply Chain Junction for the initial implementation). With the Manhattan warehouse management system (WMS) in place, Kolok was able to think about their supply chain not just as a back office function but as a tool to obtain a competitive advantage.
"One of the most important things in our industry is being able to deliver on the order when it's taken, if you don't you are pretty much guaranteed to lose the sale",

writes Mohammed Ebrahim (Operations Director),

"Our ability to continually improve our warehousing and distribution processes has helped us to stay ahead of our competition".
Since the initial benchmarking exercise of their distribution processes, Kolok have either achieved or are in the process of implementing changes that enabled them to:
Reduce the floor warehouse labour complement by 50%
Grow daily order volumes by around 30%
Receive and putaway 16+ containers per day (where it used to take five days to unload and put away a single container).
Implement ongoing stock counts, allowing Kolok to completely eliminate downtime when closing their warehouse for a full stock count.
Implement a single step pick, pack and weight check process which is expected to decrease QC and packing effort by 80%
Implement a customer batch order pick process which will increase pick productivity by an additional 30%
Supply Chain Junction has helped us in identifying and implementing key processes to optimise our warehousing and distribution, our relationship has gone from service provider to trusted partner," writes Mohammed. "We know that currently we still have a significant amount of opportunities but as we tick each one off we continue to see huge benefits.
Download the full Kolok Case Study to see how Kolok, in partnership with Supply Chain Junction, used the Manhattan SCALE warehouse management system to improve customer service levels and grow their business.
---
Want to put your business at the forefront of your industry? Let's work together to help you optimise your supply chain, improve customer service levels and boost efficiency and profitability in your warehouse.