Inbound Logistics
Inventory Management and Control
Outbound Order Processing
Shipping and Loading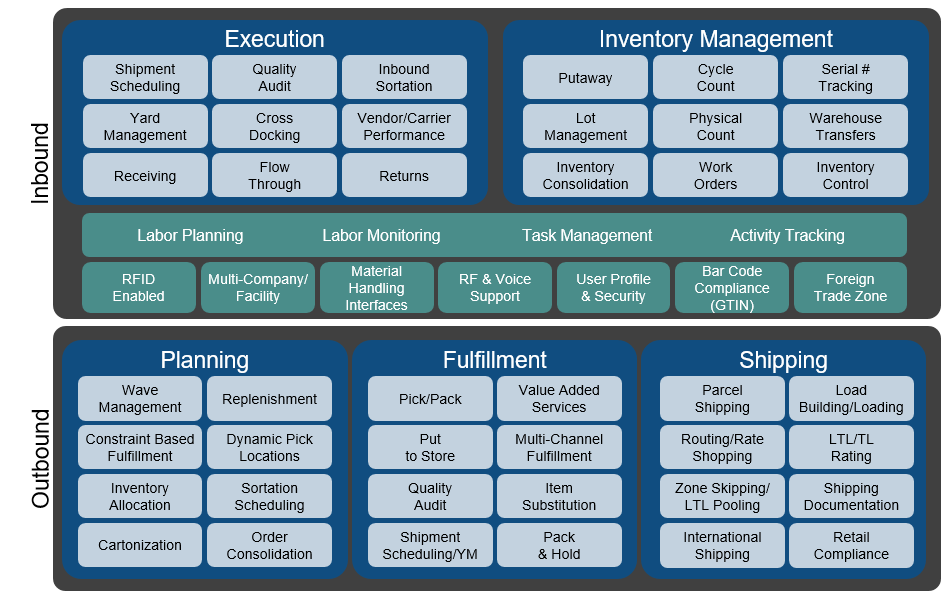 Yard management and appointment scheduling
Inbound planning is where warehouse success begins. Yard management is the practice of managing the vehicles and/ or trailers as they arrive at your facility and then directing them to either a yard location or appropriate dock door. This function works best when coupled with appointment scheduling as your facility has finite capacity and planning the arrival of deliveries against that capacity ensures that the workload is smoothed throughout the day.
Receiving
Receiving is pivotal to the success of your warehouse and, ultimately, your business. Whether you are receiving against ASNs, PO's or blind and whether your inventory is labelled, pre-allocated or arrives unplanned, mistakes and errors during the receiving process negatively affect every downstream process that follows in your warehouse. So the importance of ensuring your WMS helps to drive an effective receiving process is critical.
Reverse Logistics
Receiving is pivotal to the success of your warehouse and, ultimately, your business. Whether you are receiving against ASNs, PO's or blind and whether your inventory is labelled, pre-allocated or arrives unplanned, mistakes and errors during the receiving process negatively affect every downstream process that follows in your warehouse. So the importance of ensuring your WMS helps to drive an effective receiving process is critical
Cross Docking
There are many forms of cross docking including flow through, merge in transit, ship to mark for, pure cross dock, these can then be coupled with multiple warehouse processes such as put to store, opportunistic substitution and allocation. The important thing to consider with cross docking is that the main aim is to ship out the inventory you receive without having to make any changes to how it was received and this is where your WMS should seamlessly match the inventory received to the open orders to facilitate this.
Putaway
An effective putaway process assists in speeding up your order fulfillment time as most ERP systems wont let you sell inventory that you don't physically and systematically have - which is why your dock to stock metric is one of your most critical.Your WMS helps to optimise your putaway strategy, allowing you to improve warehouse capacity, inventory availability, as well as reducing excess travel, preventing damage to inventory and reducing congestion in aisles.
Full Stock Take
Most warehouses will require a full stock take at least twice a year - sometimes more if your auditors require it. As a full stock take typically requires that you stop operations whilst the physical count is being performed, it's essential that your WMS helps you accurately plan, coordinate and execute this process so you can back to the business of fulfilling orders ASAP
Cycle Counting
Cycle Counting is typically broken into two components:
1 - Planned Counts - This is where your inventory team counts X number of items and/ or locations on a regular basis based on criteria such as item velocity, item value, days since last counted, etc
2 - Exception Counts - As the name suggests these counts are typically executed when an exception such as a short pick or alternate location selection occur, but they can also be proactive by asking pickers to confirm that locations are actually empty once they have picked the last item in the location
Most warehouses have a combination of full stock takes and cycle counts in place, but the most mature use cycle counts only as they have proven that their inventory accuracy is sufficient to warrant the trust and flexibility to do so
Lot and Serial Tracking
If you are a company that operates in the pharmaceutical or food distribution sectors you'll be all too familiar with the need for tracking lot, batch and expiry dates. These are specifically important when ensuring you are supplying the freshest inventory, and when there is a product recall, as you will need to know exactly what lot, batch and expiry of the recalled item you have shipped to each and every customer.
High Tech Electronic companies also need to track serial numbers for warranty purposes. There are often manufacturer rebates for specific items and the only way to claim these is by ensuring you provide information on which serial number was sold to which customer. In addition, when an item is returned, it's critical to match the serial number sold to the customer with the one returned.
Wave Planning
The wave is one of most important functions of a WMS as it performs the following core functions:
Selects the appropriate customer orders

Allocates inventory

Creates replenishments where necessary

Creates, sequences and organises picking tasks

Prints any required labels

Releases work to the warehouse to be completed

Picking
Picking involves selecting the appropriate items that match your customer order requirements, as it is one of the most important functions in a warehouse it needs to planned, organised and executed effectively and this is where your WMS should come into its own.
There are many types of order picking including:
Discrete Order Picking

- Picking one order at a time

Batch Picking

- Pulling down a large amount of a single item that has been ordered by many customers and then sorting that item to satisfy the orders

Cart Picking

- Picking and packing several customer orders into the final shipping containers via a picking cart or trolley

RF Picking

- Radio Frequency devices are the most commonly used to present tasks to pickers

Voice Picking

- Pickers are presented with picking tasks via a headset and speech instructions and then feedback to the WMS via a headset

Tote Picking

- typically uses in omnichannel operations where multiple customer orders are picked into a single tote and then sorted at a put-wall

Full Pallet Picking

- Involves selecting a full pallet, typically from reserve racking to satisfy an entire customer order

Pick and Pass

- this involves multiple pickers selecting items for an order and passing the container between the various zones from which the items need to be selected.

Put to Store

- this is typically used in a retail distribution environment and involves "putting" the contents of an item's carton or pallet to individual store locations

MHE Assisted Picking

- in high volume, high labour cost distribution centers, picking is either performed or aided by using material handling equipment such a put to light, ASRS, goods to man and various other forms
Outbound Quality audit
Auditing or checking your orders prior to despatching them to customers is typically driven by a number of factors including:
Order Picking Accuracy Metric

- the more errors, the more you should audit

Specific Item Requirements

- these can include high value, highly desirable, value added services,

Customer Requirements

- these can include priority customers, customers who raise the most delivery complaints and returns

Staff Monitoring

- additional checks for pickers who have low accuracy metrics

Security Requirements

- if you believe there is theft then you should be auditing specific items and staff that are under suspicion

Random Audits

- it is good practice to perform X of Y checks to ensure that your teams are aware that the picking work will be checked
Load Building and Loading
The process of building a load can either be performed in the wave, via integration to a Transport Management System (TMS) or after orders are picked. Your WMS should enable the flexibility to perform any combination of these processes.
Loading is the process of the WMS systematically directing the shipping teams as to which orders to load onto which vehicles, at which dock doors at the appropriate time to meet the despatch cut off time.
Rating and Routing
The process of rating and routing can either be performed in the wave, via a third party carrier system or after orders are picked. The aim of rating and routing is to systematically select the most appropriate carrier to transport your customer orders based on the price and service level requirement of the customer.
Shipping Documentation
Prior to dispatch, your customer orders and delivery partners will typically require supporting documentation, whether this be electronically verified or printed at the time of despatch. The typical core documents include:
Manifest

- this typically lists the entire contents of a shipment or load and can often be referred to as a 'bill of lading' depending on the purpose and destination of the cargo

Invoice

- typically an invoice is generated from the ERP and electronically sent to customers once the contents of an order has been fully loaded and no further changes need to be made

ASN

- the

Advance Shipping Notice

is sent to the receiving party so that they can plan in advance based on the contents of the shipment that is in transit
Your WMS should be able to generate these documents in a flexible and tailored manner that meets your requirements.
---
Discover how Supply Chain Junction helped Tarsus Distribution improve their warehouse operations by using the above functionality contained within the Manhattan WMS, as well as implementing new processes and systems. Tarsus increased their warehouse efficiency, customer service and subsequently their business success by 60%!
---
The features (or modules) of a warehouse management system include:
---
Core warehouse management
Distribution management is an umbrella term for all of the activities and processes within your warehouse. This includes things like inbound logistics, inventory management, outbound order processing and shipping.
Slotting optimisation
Slotting optimisation helps you to determine the best locations for your inventory by strategically grouping items based on the following aspects.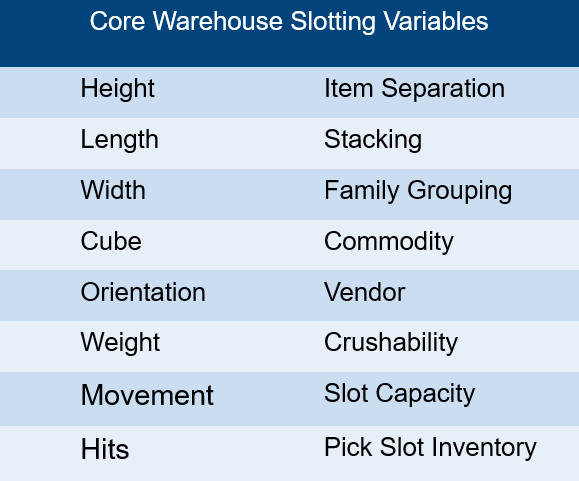 This helps improve productivity, worker safety and order accuracy. Fast moving items are placed in the most accessible location in your warehouse, while large, heavy stock is placed toward the back of your warehouse where it's unlikely to get in your way.
Labour management
Omnichannel and increasing customer demands require greater productivity and efficiency. Labour management allows managers and supervisors to predict workforce requirements, track productivity and set incentives for staff. By rewarding and incentivising strong performers, you will boost staff morale and ultimately improve customer service levels.
There are typically four steps in the labour management journey, with each having incremental benefit.
1. Historical Average - this is where your associates are measured against past averages such a pick tasks/ hr. As a result of your teams simply knowing that they are being measured, you should see a 10% increase in productivity. The trick to this is to ensure that the measurements are consistent and this is where labour and WMS play a key role
2. Reasonable Expectancy - once you have defined and built the historical average, you can then start to set goals and expectations of your employees and teams. Once your employees have a benchmark goal and can be measured against this with the necessary feedback you should see further productivity gains
3. Engineered Standards - Engineered standards are typically made up of the following core elements, which once implemented successfully should result in roughly a 30% productivity improvement:
Discrete standards

Travel elements

Vehicle calculations

Labour programs

Change management
4. Pay Incentive - This is typically the holy grail of labour management - being able to reward your employees based on their productivity, safety and accuracy performance and once implemented successfully with result in enormous benefits sometimes up to 45 % from the current base. Once in place you should be able to regularly perform the following core functions
Incentive payments

Labour forecasting

Labour scheduling

Detailed labour planning

Ongoing feedback and improvement cycles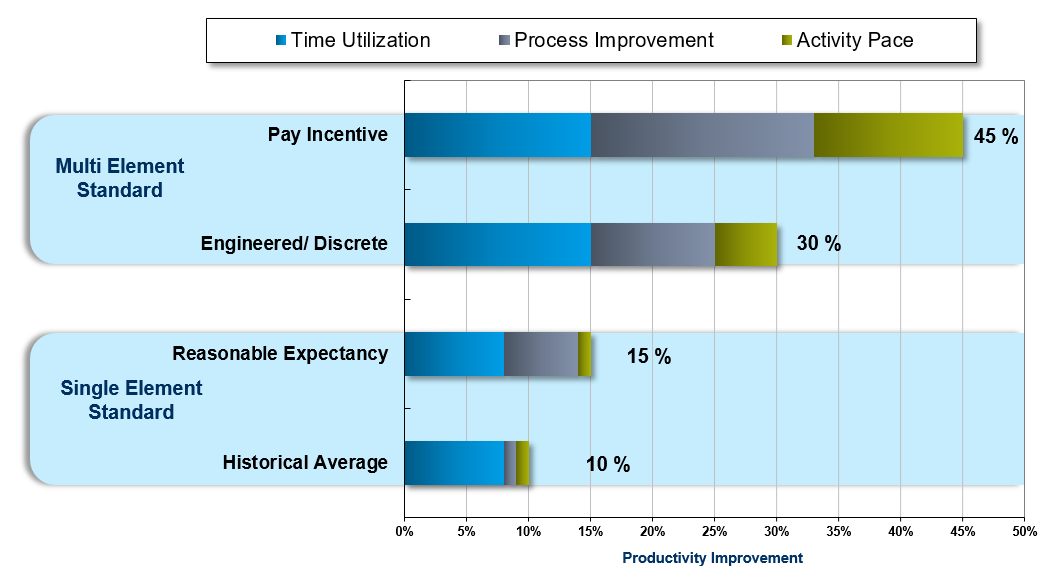 Billing management
Billing management software is typically used by 3PLs to ensure they are systematically recording activity based costs, such as number of value added services activities and storage costs, so that they can accurately invoice their customers for the services they provide to them.
Warehouse mobility
Warehouse mobility aims to ensure that management spend less time at their desks and more time on the warehouse floor, helping to increase staff productivity, improve order turnaround times and overcome inventory accuracy challenges. Warehouse mobility is becoming the go-to capability for modern warehouse managers as described in the unbound warehouse mobility whitepaper:
The following two minute video demonstrates how warehouse mobility aims to improve productivity, interaction, employee satisfaction and order cycle time:
Supply Chain Intelligence
You need a warehouse intelligence dashboard. The KPIs on your WMS dashboard pull in all the relevant information to allow you to assess the health of your business and make key decisions to help it stay on track. Monitoring your warehouse performance will assist you to compare data over time, reduce costs and ensure consistency.