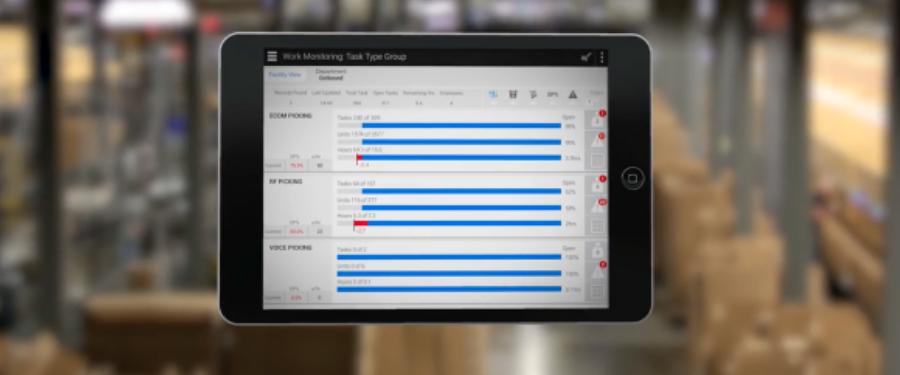 It's time for warehouse managers to ditch the desk and spend more time on your warehouse floor supervising operations and engaging with staff. Here's how WMS mobile applications can contribute to better labour productivity, order turnaround times, accuracy and employee satisfaction.
Warehouse and distribution managers have historically been desk-bound, unable to spend very much time on their warehouse floor. This is because their warehouse management system (WMS) was unable to travel with them. The challenge this presented was that it was extremely difficult for warehouse managers to communicate with their team, build relationships, provide feedback, accurately measure staff performance and whilst on the DC floor proactively adapt to changing requirements.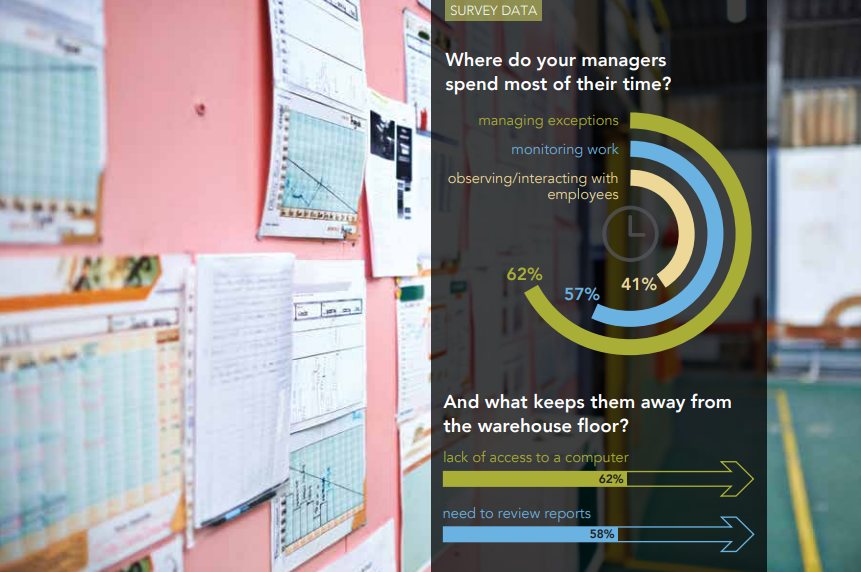 Thanks to modern technology (both hardware and software), warehouse managers can finally become more hands-on in their approach to leadership - boosting productivity and staff morale.
Why warehouse managers need to spend more time on the floor
The more time your warehouse manager spends on the floor, the more effective they are as managers. According to Manhattan Associates, warehouse management software provider, businesses can no longer afford for their managers to be desk-bound:
A recent survey of IT and operations professionals in the logistics, manufacturing, retail, transportation, and wholesale markets revealed the three most critical picking and fulfillment issues:
labor productivity
order turnaround time
order accuracy.
---
In reality, most DC managers don't spend enough time on the floor, yet the report shows that the more time warehouse managers spend on the floor, the more effective they are in improving productivity and creating an engaged workforce. Download this report with key insights into the role of the modern distribution manager.
---
In the world of omnichannel commerce, improving these areas starts with quick, real-time access to information—not only for sharing, verifying, and altering order fulfillment tasks, and other time-sensitive data—but also for driving engagement and productivity among warehouse associates.
To meet the needs of today, data should be delivered to associates and managers alike in a mobile format across warehouse management, inventory, and slotting functions.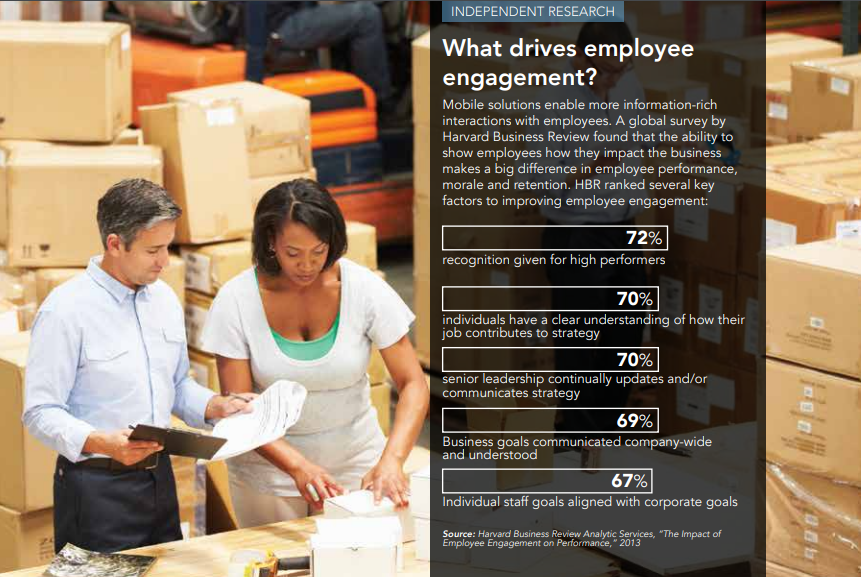 If you don't currently have the facility for your warehouse manager to spend more time on your warehouse or distribution centre floor, take a look at how a mobile WMS application benefits your business.
Take a look at the benefits of Manhattan's DM Mobile application
Track staff productivity and performance in real-time, from your warehouse floor. This allows you to build stronger relationships with staff, boost staff morale, and recognise and reward hard work.
Get immediate status updates on work in progress. Noticed a half-filled order that's been sitting on your warehouse floor for the last two hours? If so, you can check what's going on with drill-down views of work in progress, allowing you to flag any potential delays and re-prioritise tasks.
Track whether you're ahead or behind for the day. With real-time access to accurate data, you'll be able to tell instantly whether you need to call a few extra pairs of hands onto the warehouse floor to help your team meet their deadlines on time.
Manhattan identifies four key areas the DM mobile assists warehouse managers
DM mobile assists warehouse managers in improving labour productivity, order turnaround times and accuracy. The application has four primary capabilities, listed below:
Warehouse managers can finally break away from the desk since DM Mobile gives them all the information they need to interact and affect change among employees and tasks in real time on the warehouse floor.
DM Mobile offers a comprehensive set of capabilities that are seamlessly interconnected with the Manhattan Active Distribution suite:
Labor Management.
DM Mobile equips supervisors with vital performance information necessary for real-time interaction with employees on the warehouse floor. The solution helps improve employee engagement by providing a system for identifying and rewarding strong performers while coaching employees who are not meeting their goals.
Work Monitoring.
Through an easy-to-use, consumer-oriented user interface, DM Mobile offers a work monitoring framework with multiple hierarchies for task management in all warehouse environments.
Inventory Management.
DM Mobile has a powerful capability to manage or interact with inventory directly from the warehouse floor. Warehouse managers can view or manage inventory using intuitive inventory searches by location, item or LPN. Inventory management provides warehouse managers real-time inventory data while moving throughout their facility and encountering current or potential inventory issues. Managers can make immediate inventory updates and even view slot score and re-slot locations.
Order Streaming.
DM Mobile supports order streaming, which dynamically adjusts picking priorities on-the-fly, and help keep labor resources and sortation equipment moving at a more regular pace, while reducing the amount of downtime for labor and sortation processes.
Want to see what a world class supply chain looks like in action? Download the Tarsus Distribution case study to see how Tarsus (in partnership with Supply Chain Junction) used the Manhattan WMS to increase their warehouse efficiency by 60%.