Traditional bricks and mortar retail is under attack globally, with retailers struggling to compete with the growing popularity of large-scale competitors such as Amazon and Alibaba.
The industry is also in the grip of a revolution powered by digital technology, as people shop online rather than in stores, as COVID-19 grips the world and encourages people to stay at home… the best possible time for a 3PL provider to fulfil an international need!
The UAE and Saudi Arabia see a growing middle class that strives for progress and modernity - they expect to be able to buy products quickly and conveniently. Speed and convenience are now the main reasons that Middle Eastern consumers are more negotiable on brand loyalty in favour of service. This is where a good 3PL provider comes in.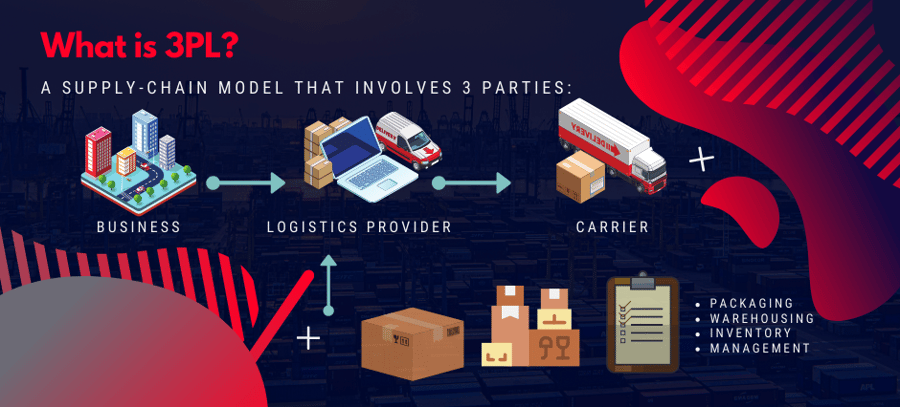 To provide this, a 3PL can be a valuable ally to vendors. Their extensive resources give customers more flexibility to handle increased order volume without missing a beat – even during peak sales periods such as Black Friday and Cyber Monday.
A 3PL may offer a call center to help handle customer issues faster, and their WMS to streamline returns. As part of their commitment to quality management, they will always be on the lookout for new ways to improve operations and delight your customers.
This position also now requires that warehouses and fulfilment centres step up in terms of quality service in order to meet increased demand. The only way 3PLs can succeed in this new environment is if they become equipped to deal with the industry's biggest challenge today which is the escalation of customer and prospect expectations. The elements responsible for the increase in customer demands have been said to be the consistent discoveries and breakthroughs in technology.
There are 8 major benefits to outsourcing 3PL requirements, and these are:
1. Cost Savings
The most common reason for outsourcing is that 3PLs can ensure customers get the best value from their established systems. Additionally, a quality 3PL provider will continuously identify ways to improve efficiencies, cut costs, and add value to client operations.
2. Network Capacity
Vetting of warehousing for equipment, labour, insurance, and qualifications is a large undertaking. A 3PL provider already has these systems in place
3. Scalability
Customers can more easily manage high and low seasons with the assistance of a 3PL who can help them quickly respond to increases in demand or expansion.
4. Service Improvements
The right 3PL partner can help customers IMPROVE on service. Quality partners save time, keeping your customers happy and helping you avoid costly retail vendor chargebacks and schedule disruptions. With added attention given to data communication and problem-solving, 3PLs can help brands avoid service issues and keep customers happy.
5. Technology Access
A 3PL can take on the responsibility and costs associated with investing in technologies that improve your operations. Able to share with multiple customers, they can handle the investment upfront and sustain maintenance costs, passing all the benefits on to you. Beneficial technologies that 3PLs provide include things like RFID and real-time tracking.
6. Operational and Industry Expertise
A 3PL often goes in and out of the same receiver locations for multiple clients, so they can share information about preferences and best practices. This includes guidelines about order configuration, pick-up and delivery windows, scheduling, equipment, etc. Understanding customer needs and communicating them to carriers can make a monumental difference in performance.
7. Time to Focus on Core Competencies
Transportation can be a time suck if you don't have the right systems in place. A 3PL partner can take many tasks off your plate, freeing you up to focus on other important parts of your business.
8. Issue Management and Reduced Risk
Things happen in the warehouse that can delay an order, no matter how much prep and communication takes place. A good 3PL provider can handle these concerns, streamline and adjust the process with established resources, and clearly communicate quickly.
5 Reasons Why Customers Should Choose Your 3PL:
Can Your WMS Tick The Boxes?
❏
Seamless service.
Today's customers expect a seamless shopping experience – online, mobile catalog, etc. Studies show that 90 percent of consumers expect a consistent customer experience across channels and devices when they interact with brands. They're also looking for a variety of delivery and store pick-up options. A 3PL with a robust warehouse management system (WMS) can help you deliver, optimise inventory, and allow you to fulfill orders from multiple sources - this omnichannel offering and knowledge of best practices also help to give customers the ultimate experience.
❏
Improved visibility & order accuracy
When customers shop online, they expect to see if products they want are available – in store and online – and when they will receive them. In fact, 80 percent of consumers are less inclined to visit a retailer's physical store when the website does not include current product availability. When orders arrive, customers expect to receive the item, quantity and color they requested. You need to be able to provide accurate, real-time inventory information so you know what's available to purchase, what's on back-order, and more. They'll also have up-to-the-minute order status and tracking information.
A quality-minded 3PL will pay careful attention to solution design and incorporate proven processes to help ensure order accuracy. A comprehensive WMS like Manhattan leverages methodologies to identify opportunities for improvement, constantly elevating service.
❏
Rapid low-cost delivery
Today's GCC shopper wants products in hand quickly and affordably. Almost 90 percent of consumers consider free shipping to be even more important than fast shipping, but, still, 45 percent expect delivery within two days and 35 percent will be looking for their orders within three to four days, a new Deloitte study shows.
Your WMS and 3PL service needs to process orders more efficiently and identify the fulfillment sources closest to the customer for faster deliveries. In addition, automation systems and material handling equipment have proven processes to speed order turnaround times and should be considered. It can also help you save on outbound freight costs by negotiating rates as well as pooling parcel packages and leveraging postal work-share options like presorting and drop-shipping.
❏
Flexibility for Customisation
Personalisation is one of today's biggest perks, from gifting to tailoring orders, customers want to make their purchases unique. If you can deliver, you're likely to increase sales, build customer loyalty and differentiate yourself in the marketplace. Special touches like these can be labour intensive, however.
This is another great opportunity to promote your 3PL: with a wide array of value-added services, you can expand your product offerings without excessive inventory. With maximisation of space and labour, a 3PL can delay product configuration until the last minute enabling the client to respond more accurately to customer demand. Strategically located facilities can also move these services closer to the customer to increase speed-in-hand throughout the chain.
❏
Responsive service
Customers expect top-notch service response - 65 percent of customers have cut ties with a brand after a single poor customer experience, a Spark study shows. With that kind of pressure to perform, you need a great WMS and to be the valuable ally clients need by offering extensive resources (space, labour, technology, locations) to lend more flexibility to handle increased order volume without missing a beat – even during peak sales periods such as Black Friday.
Perhaps offer a virtual WhatsApp center to process customer issues faster, and a trusted OMS will streamline returns. As part of your commitment to quality management, you will always be on the lookout for new ways to improve operations and please customers.
Finally, it has to be said that an implementation plan is critical, and consultation with your vendor is of utmost importance to ensure that your solutions go in completely understanding their requirements, that you may fulfil and supercede them.
In conclusion, there has never been a better time for 3PL providers as every sector turns to them to realise survival in a digital market. What sets you apart from competitors will determine your survival. You need a partner who can offer you the muscle power to make promises you can keep.
Start your WMS implementation process the right way by assessing the cost vs. benefit in full. Download the ROI calculation guide here: