In times where supply chain all over the world must adapt to rapidly changing demands, government regulations, and volatile circumstances, sustainability and reducing the carbon footprint might not get as high on the priority list as you would like. This blog explains some tips and tricks to paint your warehouse green and increase operational productivity. A more sustainable supply chain can start at your warehouse.
Before going into more detail, let's define the scope. The warehouse or distribution centre is a crucial link in the end-to-end supply chain. Transport between the different links is an obvious target when trying to minimize your carbon footprint. This is not the only area to focus on though, there is much to gain inside and outside of the four walls of your warehouse as well. We will look at what we can achieve with the warehouse and how this will impact the bigger picture.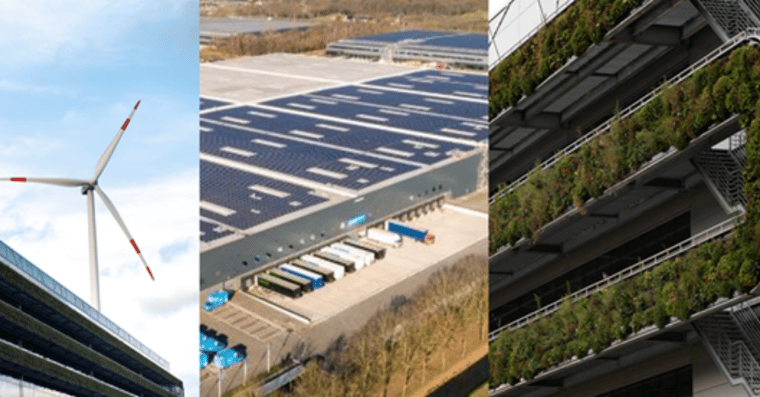 Several customers in the Manhattan GeoPartner network have implemented sustainable solutions at their warehouses.
The Green Advantages of Your Physical Warehouse Structure
The energy consumption in distribution centres and warehouses is moderate to heavy and adds to the carbon footprint. These facilities are often large buildings with a massive (flat) surface on top of the structure. There are many ways to utilize the physical building in your advantage. Have a look at a few invigorating examples from partners within the Manhattan GeoPartner network:

Wind energy. One of the main reasons why wind energy initiatives are not implemented, is due to an urban agenda that does not allow wind turbines. However, the landscape requirements in industrial areas typically do not prevent you in pursuing locally generated wind turbine energy.
Solar panels. Cover the entire surface with solar panels to be carbon neutral and even feed energy into your local community.
Green walls. Cover walls of the structure with vegetation to counter pollution. Let the large vertical spaces be of multiple purposes.
Cross-dock and Flowthrough
Distribution centres across all kinds of industries struggle with high racking location utilization. The inventory is received, stored and after a while pulled for order fulfilment. Minimizing these movements contribute to a reduced carbon footprint and one of the methods that has proven to be incredibly effective is to evaluate open order quantities as early as the inventory gets received. If there are 100 units of item X ordered by the customers and you receive a pallet with 100 units of item X, there is no need to store the pallet in a location before fulfilling the outstanding orders.

When an entire carton or pallet can go to one customer or store, we are talking about cross-dock. If the entire carton or pallet can be split across multiple customers or stores, we refer to flowthrough. An Order Management System (OMS) or Omni-channel solution can support orchestrated order release to the WMS in a timely and efficient way. Consequently, the WMS can evaluate open order quantities, automatically allocate inventory upon receipt, and reduce warehouse movements.

Cubing
Most people who regularly order items online will know the struggle: getting a way too large box for the item that you ordered or getting multiple items in multiple parcels when all could have fitted in one box. The process of calculating which items should go together in a carton is called cubing or cartonization. Poor cubing performance can lead to too large carton sizes assigned to items or getting lots of cartons when the items could have been combined in one. This directly leads to poor truck space utilization which increases the number of truckloads and pollution.

Improving the cubing process starts with accurate item master data and accurate data regarding carton sizes. Once this is up to a reasonable standard, it is key to select the right cubing algorithm. Manhattan WMS support over 25 different cubing algorithms that follow different strategies and restrictions. Get in touch with our experts to learn more about cubing and the right strategy for your business.

Task Optimization
This topic is linked to minimizing the movements in warehouse processes. A task is a grouping of work within the warehouse like moving a pallet to a racking location, pulling cartons from a pallet, or picking units into a container on a picking trolley. Optimizing tasks can help increasing productivity by combining units of work in a clever and engineered way. Task grouping, selection and sequencing functionality is used to achieve this. This is not only improving productivity but also reduces energy consumption.


Want to know more? Get in touch and learn more about our best-in-class supply chain solutions.