A WMS is undoubtedly a way to transform your business, but what does than mean in dollars and cents? How much are you REALLY in for, and what does your investment give you in tangible benefits?
WHERE WILL A WMS SAVE YOU MONEY?
Simply put, you have to spend money to make money, and the returns on an excellent WMS are well justified. The right WMS will be a solution to a problem, not just a flashy show of technology.
Let's look at the money that a WMS will help you save by identifying and eliminating inefficiencies and ensuring you optimise your operations to improve your customer service and bottom line:
Miscounting inventory is a thing of the past when your system helps you maintain accurate and appropriate stock. Your WMS gives superior inventory tracking with a multitude of technologies, from your supplier to your door, through your warehouse, and on to your customer, eliminating the need for costly and laborious counting and speeding up the entire process.

Save between 5% and 40% on inventory losses and 50%-99.9% on shrinkage when you implement your WMS.

When you're out of stock, customers have to go elsewhere to fulfil their needs. Your WMS can send alerts when stock is low, saving you money and credibility with your customers.

Save 10%-50% on inventory availability.

Managing your workforce can be complex, and is one of warehousing and logistics biggest expenses. Your WMS helps you calculate your labour needs, bringing in seasonal employees when demand is high, and scaling down again when demand lowers.

Save 10%-45% of labour costs.

If you have the ability to provide your customers with an increased variety of products, you increase your bottom line, but managing multiple suppliers is complex. Your WMS helps you to manage multiple accounts seamlessly. Each supplier's information is at your fingertips and can be customised according to each negotiated relationship.

Improve to 99% on supplier conformance, and save even more time and money on administrative tasks.

Carrier integration saves you money when your shipments are calculated to take the most direct route possible. This not only speeds up and improves accuracy in the shipping process - making your customers happy and getting return business - but saves you money. Your WMS can handle multiple carriers so that the best service can be arranged for each customer.

Shipping accuracy can increase to 99% with a WMS, saving you time, money, and resources.

Warehouse management systems employ Electronic Data Interchange (EDI), a system of sharing information with your trading partners. Information is entered and verified only one time, and then it's transmitted to provide information, like advance shipping notices, PO number, product information, shipping information, saving on time-consuming administration.

Optimise your staff's time and save on administrative costs - here, the sky is the limit.

Your WMS should be user-friendly and supported by a vendor who assists with integration and training. This makes training your employees easier so there is minimal wasted time in learning the system.

Save in training cost, teething errors, and efficency, and reduce the down-time while your staff learn the ropes.

IT support costs businesses massively, but still not as much as the bad results thereof. With an excellent WMS online system you use only the IT resources you need instead of employing an expensive team.

Reduce the overheads you need to efficiently run your network and improve cost-efficiency in your IT spend. This saving varies from business to business.

Customer service is the pulse of your business: when your customers' needs aren't met, you lose business. Your system can send automated email notifications when orders ship, information is needed, order confirmations, and much more. When customers call in, your customer service department can engage with them on their preferred channel, has all the information they need to solve problems.

A 10%-50% saving can be expected when you streamline your customer service with a WMS, by allowing simpler access to information, faster turnarounds, and increased return business.

When orders have to be returned, your system uses reverse logistics to find the most efficient way to return items, log them, and identify the issue.

With a reduced rate of returns, thanks to improved picking and delivery accuracy, reduces the losses incurred from replacement, refunds, and time spent reissuing product.

With supply chain tracking you see where your stock is at any point in the process and track orders sent to customers. Happy customers = happy you!
Download the Kolok Case Study for a real example of the immediate savings you can see with a WMS:
In a buyer's market, you need to make sure buyers identify you as their go-to source, and the way to do that is to give them superior service at a better price. An excellent WMS is a bold step towards realising that. An excellent partner will ensure speedy implementation, maximal training and functionality, and minimal downtime.
OKAY, YOU'RE IN. SO HOW MUCH WILL THE WMS COST?
Before you embark on the journey of purchasing a WMS, you should determine the key features and functions required to support your business needs and ROI goals.
You should also consider the project planning, organisation, team members and optimisation requirements, and use these as a baseline when providing your requirements to your potential WMS provider.
Researching WMS options can be difficult because pricing is not readily available, making it hard to create a budget for a new system. Many different factors can cause budgets to shift significantly.
There are four core cost elements include when calculating what a WMS will cost you:
WMS software licensing fees
WMS implementation costs
WMS hardware costs
Out-of-scope costs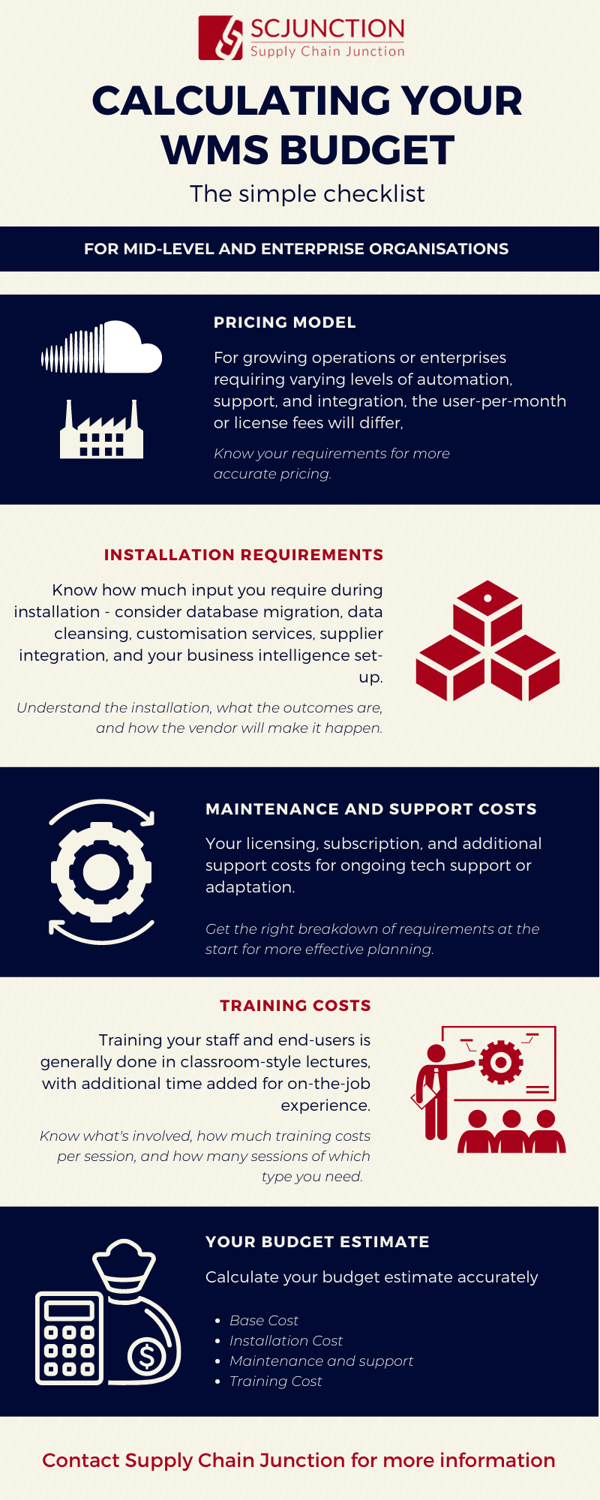 THE IMMEDIATE OUTCOME
Your efficiency will immediately see an uptick, in areas like:
Facility space reduction and optimisation
Time savings
Labour allocation and reduction
Error reduction
Increased speed
Improved delivery turnaround
Improved order accuracy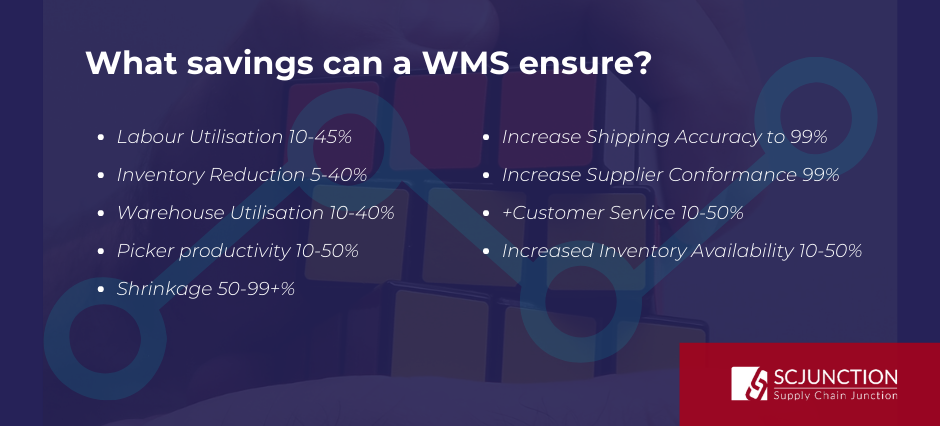 See if you are within the productivity range by comparing your pre-WMS warehouse numbers to your metrics after implementation:
Assess how effectively you implemented your chosen pick method (e.g., upfront work planning waves, percentage of goods prepped in time for an outbound truck) and compare it to how much better it's executed with a warehouse management system.
Compare the average pick rate before you optimized your pick path to your average pick rate after you implement WMS algorithms.
Compare your pre-WMS and post-WMS putaway speed and inventory accuracy rates.
Compare your pre-WMS and post-WMS inventory count accuracy rates.
Compare your pre-WMS and post-WMS error rates.
Compare your pre-WMS and post-WMS stock-out rates, call center contact rate, and speed of receiving client payments.
NOW, CALCULATE YOUR OVERALL WMS ROI
The ROI is always the driving force for getting a "yes." About 99% of the time you think of or discuss an ROI, it's a monetary decision. The same is true for WMS in most respects, but there are a few other things to understand as well. Defining the actual ROI of implementing a warehouse tool comes with three considerations:
Tangible:

These are your benefits that are easily measured and validated. Your most common ROI elements are going to be things like reduced overhead costs, improved order accuracy, efficiency gains, and inventory accuracy.

Intangible:

Here are your benefits that will feel apparent, but it is hard to validate the specifics. Your team might enjoy their workday better when cycle counts are automated or when they get notices about where a component should be on the floor.

Support:

Some of your WMS benefits are measurable but can vary greatly and need to be put into their own bucket. These might be if a WMS makes your operations meet partner/vendor requirements and opens you up to potential new revenue streams. Or, a WMS' reporting functionality may make it easier for you to comply with best practices and future regulatory demands. This return is mostly about long-term potential and maintaining your place among competition.
Think of your ROI on these levels, and you'll start to see value as soon as you learn the functionalities of the WMS you might select.
When you begin to quantify them, you'll often discover that you have more budget to invest elsewhere, can improve sales numbers, or are enhancing the work environment in ways that reduce turnover and attract high-caliber staff.
Follow the directives in the downloadable, extensive ROI Guide below to get an accurate, fair business case for your WMS implementation: