9 WMS Features for an Efficient 3PL Service
Created: 18 September 2019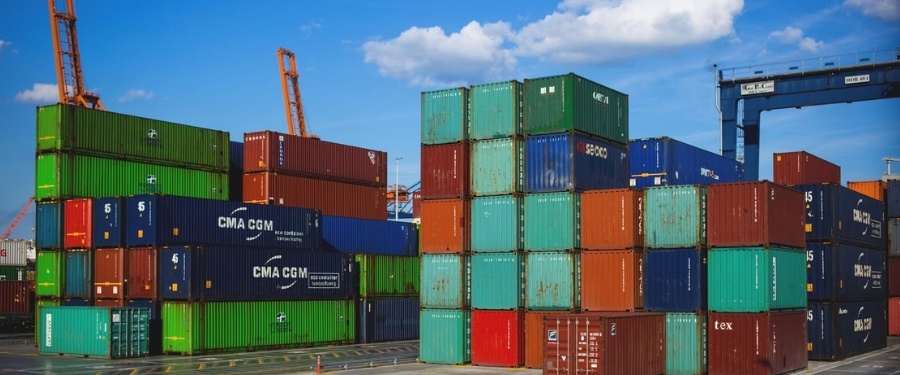 As a 3PL, your main objective is to efficiently and professionally deliver on your clients' promises. This means that you require a system that gives you flexibility, accuracy, and productivity in your supply chain operations.
Planning, execution, and consistency play a vital role in ensuring the ongoing improvement in your profits and creating a working process that your employees, customers, and partners are satisfied with.
Your WMS should have the practical features that make a warehouse and supply chain more efficient, but should also give you some additional leverage to provide true satisfaction to your customers, no matter the job spec.
A visual guide to the core features that a 3PL needs in their Warehouse Management System

A WMS improves your outputs, as seen in our blog discussion about the general features which make a WMS successful.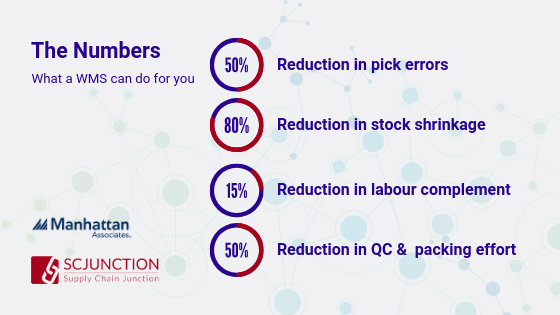 In other words, your WMS can improve your bottom line and improve the way you manage your third-party logistics warehouses.
The benefits of a fit-for-purpose 3PL WMS solution:
Your for-3PL WMS helps to drive your success in the following 4 ways:
1.
Speed to Market
Standardised modules and functional flexibility allow your business to quickly onboard and implement your WMS, integrated into your host or ERP system. Following this, you are able to implement cost-effective, customer-specific functional requirements for more effective service satisfaction.
2.
Flexibility
Any type of warehouse can be supported, and if your service needs to integrate various warehousing models, your WMS can assist. With integrated technologies like paper, RF, voice, and MHI's, you can easily apply it to your warehouse setup. The ease of configuration and extensibility manages any variety of verticals and product depth.
3.
Enablement
The built-for-3PL system can be rapidly deployed, with Manhattan Associates' solution giving you a "YES" to almost any question in your RFP.
You can:
Manage and create contracts in multiple variants within your central WMS

Provide secure, full visibility to your suppliers and customers

Implement your WMS in any size, and scale your offering for any number of warehouses, industries, or customers as your 3PL grows.
4.
Expertise
Your vendor's domain expertise should deliver the automated processes and streamlined workflows required in your customers' respective industries.
The ease-of-use and skills you acquire enable you to independently service your client requirements with seamless and efficient processes.
The 9 features of a WMS that change the way your 3PL service delivers:
In the infographic below, we look at the nine features of a WMS that are critical to your 3PL services, which help to drive your success in warehouse operations, labour management, billing, client onboarding, and your warehouse systems architecture.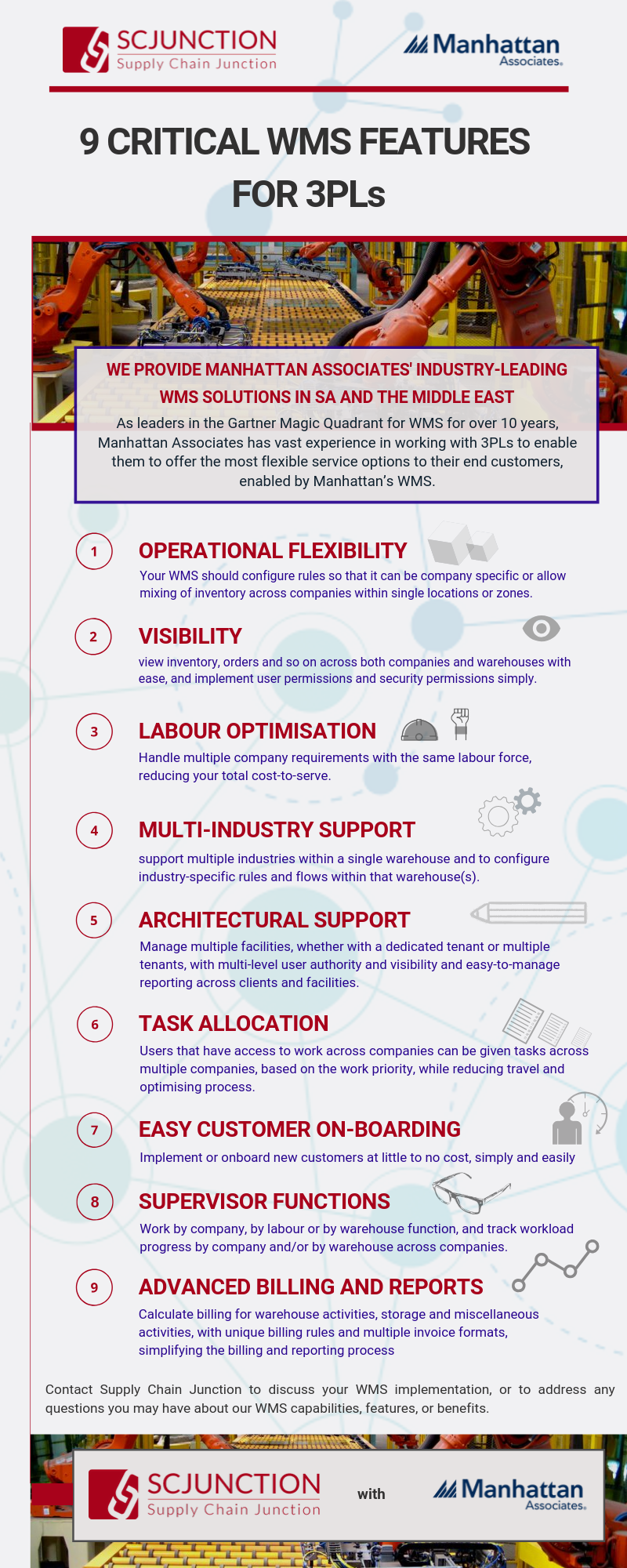 Find out how a well-implemented WMS can benefit your 3PL: