No one can be prepared for a catastrophe like a pandemic, but often clients aren't expecting a magical solution from business as much as magical management. These are three excellent e-commerce retail strategies and recommendations you can apply today to help navigate this dynamic environment.
A satisfied customer is the best advertisement.

- Michael LeBoeuf
How to leverage your e-commerce strategy to boost your warehouse and delight your customers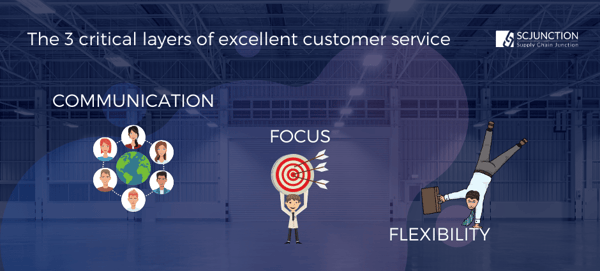 1. Be current and clear in your business communications:
Test your e-commerce platform's communications (and your client-facing staff)
Your customers are looking for information and trust your company to deliver, so make sure you proactively communicate any business or product availability updates.
If your hours of operation or any policies (like clothing returns) change, keeping clients updated on all platforms is essential to avoid disappointment and frustration in a pressurised environment.
Use all your media channels to share information about the extra precautions your business is taking, any extra services you may be providing to the community (and how they can help), or if you are experiencing delays.
If shipping timelines are delayed, update your website to reflect these changes and estimated delivery date, BEFORE they pay.
2. Stay informed on WMS and e-commerce developments:
Test your focus on new e-commerce trends and existing e-commerce performance
Take the pulse of the current landscape and category demand to understand the needs of your customers. Use resources to track trends, news, and customer behaviour so you stay up to date on local conditions and better understand your customers' frame of mind.
Review metrics by retail categories to see what customers may be searching for across your campaigns, especially if you sell high-demand products during this time. Being slightly ahead of the curve can see you retaining desired stock when everyone sells out, giving you a definite edge and securing a customer for life.
3. Adjust your warehouse performance in real-time:
Test your warehouse flexibility for successful e-commerce delivery
As consumer behaviour shifts businesses must ensure product information is updated across all channels, including communications to ensure your tone is appropriate and relevant, as well as your offerings.
Update your social and web campaigns to represent any changes in your offerings, such as delivery available or buy online, pick up in-store, and changes to store policy to reflect governance and regulations.
A dynamic warehouse management system is going to earn its worth here, keeping product data up to date, not to mention processes flowing, especially for availability and price.
Building a good customer experience does not happen by accident.
It happens by design.

- Claire Muscutt
Challenging times are an opportunity for dynamic businesses and excellent systems to shine. People are looking to retailers for preparedness, and delivering will ensure their trust and your survival.
The primary desire for consumers from their retailers is relevant and up-to-date information; being present and reliable in turbulent times with useful information will help ensure that you are delivering the assistance your customers need right now, and as a result build a relationship that will last.
Get the WMS toolkit that gives you the resources and information you need to ensure your warehouse management can match up to your customer expectations, no matter the current global situation: